Buying Guide: Coffee Tables and Side Tables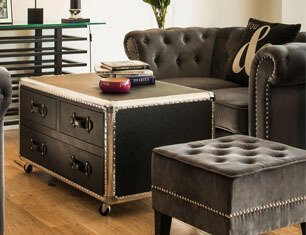 Coffee Tables
Your living room is not complete without a coffee table. You may be looking for a coffee table for the first time or are keen to replace one that you already have. Luckily for you, we have a range of options to fit various customer requirements. You are able to view all our coffee tables by browsing through the photos online. As you browse the images, you need to consider a number of things to enhance your selection. Here are a few things that you ought to consider.
Aesthetics
The coffee or side table that you have in your room needs to speak volumes about the entire place. It does not have to be an expensive item for it to suffice the aesthetic requirements. Remember that it is the simple things that matter when it comes to beautification. Regarding this, one thing to consider is the colour of your tables. We have many options available, and you are definitely going to get what you need. Just make sure that the colours match well with the other items in your room, including the lighting. Decide whether you need a dull or brightly coloured table depending on the hue in your house. Still staying with the aesthetics, it is important to consider the make of your table. Does it have enough space for your cups or other items? Is it stable? Is it a contemporary or classic piece? A contemporary table would go well with an equally contemporary room, while the opposite also applies. However, there are clever ways of combining modern and classic units in a living room. The basic piece of advice here is that one ought to know which style they require before making a purchase.
Durability
Durability is the length of time that an item can last while under use. The durability of an item is an ultimate sign of its quality, before other things are considered. One thing that makes a table durable is the material used in making it. We have wooden and glass tables in general. They also come in mixed parts, that is, wood and glass components. In many cases, the wooden items are more durable than glass items. However, there is yet another factor that determines the durability of a table. The way a table is used in the room would affect its durability. For instance, if you constantly sit on your table or overload it with items for a long time, there are chances that the table will not last long. Therefore, have this in mind before making a purchase.
Price
The cost of an item is important to you as the customer for budgeting reasons. We have budget prices for all of the coffee tables and side tables available online. The prices differ in terms of product descriptions. Such things as the make of a product and its size would also determine the price of a table in most cases. Fortunately, we do not keep the prices of our items a secret as we know how essential this information is to the shopping customers. As you shop, please note that there are no hidden charges for any item.
The information provided above is essential for you if you are planning to buy a coffee or side table. In addition to the aesthetics of your product, you also need to decide on where you will place your table and take consider the available space in your room to get the correctly sized item. Use the above guide to ensure you purchase the most suitable item for your home.