Buying Guide: Dining Tables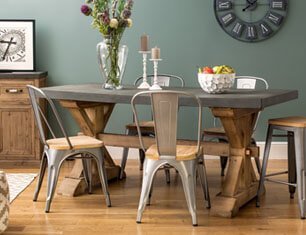 Dining Tables
The most important component of you dining room is the dining table. The look and feel in your dining room should be focused on the main use of that room. In this case, the dining room is for having your meals, therefore, the table ought to be your main focal point. In order to perfect the general look of your dining room, select the most appropriate table from our collection. We have several sets online at budget prices. Use the information below to make decisions on what to purchase.
Extendable Dining Tables
Extendable dining tables are used where the number of users changes. You may want to use a table for more people than the usual number. This design of table saves you from having to get another table or think of acquiring a bigger one. At times, you may want to reduce the size of a dining table due to a reduced number of users. This is possible with the extendable dining table, and they come in various sizes as you will see on our site. Purchasing one of these tables can help you to utilise the space that you have and can avoid you having to buy a new table when the number of users increases.
The Shape
The shape that you prefer depends on a number of things, the most obvious being personal preferences. However, there are other things that are connected to the type of shape that you may need for your room. One factor to consider is the general shape of your dining room or kitchen. It is common for circular tables to be used in round rooms and rectangular tables for rectangular rooms. Without the last statement seeming obvious its common for rooms to be designed to flow a certain way. As a result a round dining table would enhance a room that is designed to flow from one side to another. However, you may decide to do the opposite in order to be unique. Either way, we have these options online, and they come in various designs.
The Style
The meaning of style in this case is whether or not a dining table is contemporary or vintage. The vintage tables are loved by many who like to add a touch of culture to their dining rooms. We have vintage tables available in various classic designs. Every classic dining table that we sell has got a story to tell from the past. This goes all the way towards describing your own taste and personality. We also have many modern options and these tables also speak depth about the personality of a person.
The materials
We generally offer glass and wooden dining tables. There are products that have a combination of materials while others are purely wooden or glass. Take a look at what we have online as you consider what to buy. You may want to consider the other furniture that you have in your room as you make the selection. This ought to be in terms of the materials used for such surrounding furniture to enhance uniformity. Also, consider the safety of a table in your room before buying it. For instance, a glass table would be safe where there are no children or no one to play on them. Otherwise, a wooden table fits in such a situation.