Buying Guide: Sideboards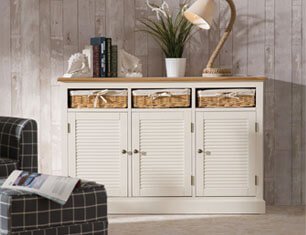 Sideboards
In terms of storage for utensils in the kitchen, and other things, sideboards come in handy. There are also other items to store in sideboards in other rooms. The choice of your sideboards matters and we have a number of options for you online. This guide is going to help you in making decisions that will augment your ability to take home the appropriate sideboard. Consider the details provided below as they will assist you in choosing the correct sideboard for your home.
Carrying Capacity
The major reason for purchasing a sideboard is for storage. This is why the capacity of your sideboards needs to be considered in order that you purchase the correct sideboard for you. We offer details on the carrying capacity of each sideboard that you will see on our web page. With regard to this, you should also consider the number of shelves and storage sections available for each sideboard as you make your comparisons. The capacity of your prospective sideboard needs to be compatible with your own storage requirements as this is why you want to buy the item.
The Material
You will need to decide on the material that you want for your sideboard. Material denotes what the sideboard is made of and this contributed to the general outlook and price of an item. You can make a decision on what option to use by observing the other details of each product.
The Type
We have several designs of sideboards available to purchase. You may want to consider the entire collection of categories as this will enhance the preciseness of your decisions. Take a look at the products falling under the following categories: dressers, corner units, console, coffee, display, corner and end units. We also indicate the availability of stocks under each category, so that you know what is available at the current time.
The Appearance
You are probably looking for a product that will complement your home. One thing to consider is the colour shade of your sideboard of choice and we have various colours available. You can use the sideboard as a way of decorating a room. Another thing is the shape of your sideboard and its size. Look at how much space it leaves between its underside and the floor. This matters in terms of cleaning purposes.
Consider applying the above criteria the next time you visit us and are in need of a sideboard. The tips that are listed above are reliable and will see you fit into your house a sideboard that compliments other components of the house in a perfect fashion.