Buying Guide: Tv Units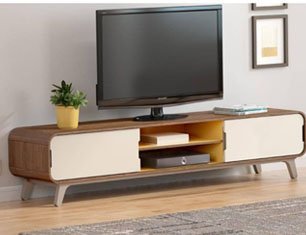 Tv Units
We have several TV units available online. If you are keen on getting the right quality units from us, you should consider a number of tips that will assist you. This tip will not only help you in getting the best from us, but also enhance your rate of satisfaction. We take pride in customers responding with positive feedback after receiving their items. Take care when choosing your TV unit as the decisions you make will contribute to your level of satisfaction. We have put together some things you may wish to consider when purchasing a TV unit.
The Design
The looks are important when it comes to getting the right TV unit. The reason for this is that the units are used in a living room, which is usually an important area in terms of looks. When you look at the available options online you will realise that there is a touch of elegance on each product. It is advisable that you take time to look at the various options available before settling on your favourite. This will give you time to explore all the possible options and make you satisfied by the decision that you will make in the end.
The Cost
For every shopping, there has to be a minimum cost and a maximum acceptable cost. This should be your method of shopping too. Before selecting an item, it would be wise to look at its price against what you are willing to spend. This method of shopping is safe for buyers as it ensures there is no unnecessary spending on products right from the start.
Consider the Size
The dimensions of the TV units that you would like to buy need to be appropriate. An appropriate TV unit would be one that fits well in your room and leaves some space for other furnishings around your television, For example a lamp or some photos which can enhance the TV Unit. At the same time, such a TV unit ought to support the television set in a complete manner. Therefore, you should buy the unit after your television, or after deciding on the size of your prospective television. In terms of width we have a varied range and you can use this information to make your choices.
Note the Colours
The looks of your TV units will depend on its colour. Different people have varying colour preferences, and we are quite aware of this. That is why we provide a wide range of colour shades for customers to choose from. It is important to look for a shade that will go well with the TV and the entire room. This is one tip of interior room design that you can apply to make your home comfortable and attractive. Choose the one that would best fit in your home.
Decide on the Material
The material of an item determines a lot of things. For instance, how you will care for the product once you have purchased it. We have a variety of glass and wooden TV units available to purchase. You should look at other details of each product in addition to the materials used in making them. Glass materials will need to be cared for more than the wooden units due to the tendency of glassware to break. Therefore, the weight of your Television set and any other items to be placed on such units need to be considered. Wooden products break less, however, this does not mean that they should not be well maintained.
There are many more things to note than those stated above. Nevertheless, the provided tips are reliable enough to enable you to purchase that wonderful product from our stocks. Enjoy your shopping experience.