Buying Guide: Wardrobes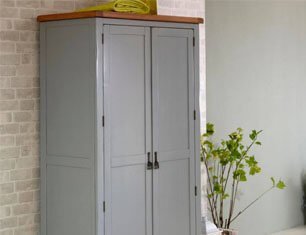 Wardrobes
If you are searching for the appropriate wardrobe for your room, there are a number of things that are essential for you to consider. We offer a great range of products on budget, but you need to know how to make your selection to enhance decision. We endeavour to achieve customer satisfaction by offering products that fit a customer's needs. Consider the following points to improve your decision making.
Wardrobe Quality
The price of a product does not directly dictate the quality of such an item. This is because there is more than meets the eye behind the pricing. One thing to consider is the condition of your wardrobe. Are the hinges working well, are the doors in good condition or are the stands strong enough? These are some of the questions that you should ask yourself.
Wardrobe Capacity
Our wardrobes come in different sizes, and it would be appropriate for you to make your choice on this basis. Make sure you have decided on the size of wardrobe you require. Consider the space you would require for your clothes at the moment and leave an allowance for possible expansion. Expansion in this case implies the space you leave to house more clothes in the future. It is natural to add more clothes than what you have so be aware of this eventuality.
Interior Design
It is also vital to be aware of the available hanging space in the wardrobe. We have wardrobes with full-length hanging space while others are not full-length in terms of hanging space. There are clothes that require the entire length while others only require a small hanging space. There are wardrobes without fixed hanging rails while others have them. Consider this as you select through the available choices. You will then be able to make a decision in terms of your requirements and the available budget.
Fixed or Free-standing Wardrobes

This decision comes with the available space in your house, and whether or not you are a permanent occupant of your room. We have a variety of options for you. If you need the free-standing wardrobes, consider the available space in your room before selecting any of the options we have. You should also know where to place the wardrobe even before acquiring it as this will help you to get the right wardrobe for you.
The fixed wardrobe is also a perfect option especially when there is little space in the room. You get enough space for other things like a big bed and other bedroom furniture. They give the room a smooth appearance in a streamlined fashion. Go through the different types of wardrobes available on display and make the right choice.
The looks of your Wardrobe

As you make your decisions on what to buy, it is important to keep in mind that wardrobes contribute to the look of your home. Having said this, you should therefore consider factors like the exterior design and colour of your wardrobe. The colour should fit well with the general colour of your room. Consider how items in your room will complement each other as you decide on your purchase. Most wardrobes are wooden and thus brown or a bit dull in colour. They are mostly available in different colour shades of black and brown. You should therefore look out for the light or dark coloured products depending on your room's general internal appearance.
Our items are reviewed by real clients who already made purchases of similar units . Consider looking at what the clients had to say about the products in their feedback to know what to expect. Otherwise, the information provided above is enough to help you take the right product home. Make use of this guide to enhance your chances of getting a suitable wardrobe.