Get the Look – Get That Scandinavian Laid Back Bedroom
When we think of a Scandinavian bedroom, we automatically think of lovely brilliant whites and natural wood, you can add many pastel colours and you're not far from what many think fits the mould of a Nordic styled bedroom.
Following on from our Scandinavian living room "get the look" post, here are some tips to getting that popular Scandi styled bedroom.
View the post on Scandinavian Living Room Tips.
So let's start off with a room set image of what we are going to target this post on and tips to getting the look.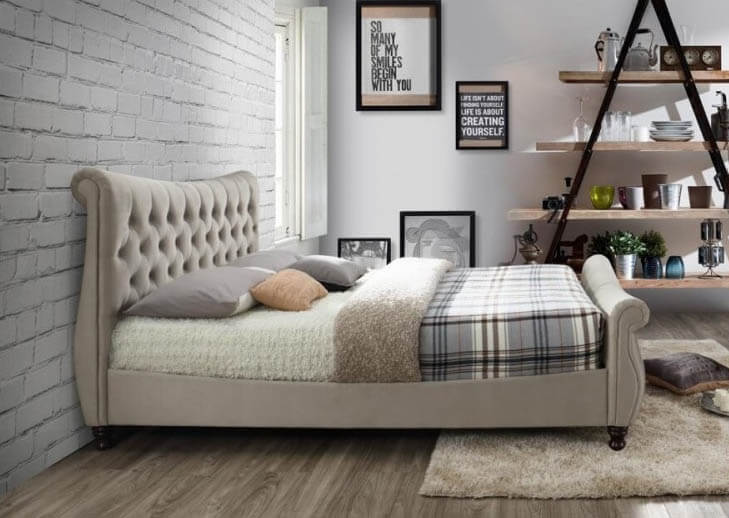 As you can see from the image, the room is set using a lot of plain and natural colours. You can find whites, beige, browns and blacks, colours that work easily together. You can add to this if you choose by adding pastel colours and swapping the beige/stone for a blue or grey. The beige/stone is brought to you by the bed frame which is can be swapped for a more modern finished frame such as the Quebec bed frame below.
You will quickly notice just on these two images alone of Scandinavian styled bedroom is that;
1) The feature wall of the room is white with exposed brick or a concrete pattern. The rest of the walls are finished in a white with a smooth wall/no pattern.
2) The floors are finished in a natural wood and utilise a rug under the bed that matched the colour scheme of the bed or walls.
Further to things that you might noticed is that both room sets take advantage of some industrial styles, the first room set uses a large industrial black and natural shelving unit and the second room set utilises a lovely petite black metal diamond pendant.
With the quick observations out of the way…
So we have got out of the way what you might think fits the mould of a Scandinavian styled bedroom and what you instantly notice from our example of room settings we are going to target in this post. Now let's get started on what we think you will need to get the look and what products we have that might just make that wonderful Nordic bedroom.
The bed frame and mattress
To get that perfect Scandinavian look, we suggest the Stockholm mattress which is visible in the first picture and below, it's a sublime premium bed frame and fits the mould of what we think should be in a Scandi bedroom, the bed is also pictured with one of our sleep soul mattresses which offer premium memory foam comfort.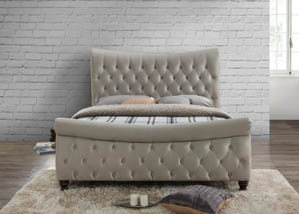 Shelving and Storage
As we have highlighted earlier, this is a good time If you wish to throw in a modern or industrial twist to your Scandinavian bedroom, as the top pictures utilises an rustic shelving unit like the one below, you can either choose a modern shelving unit like the Scandinavian Inspired Bamboo Multi Shelf Unit.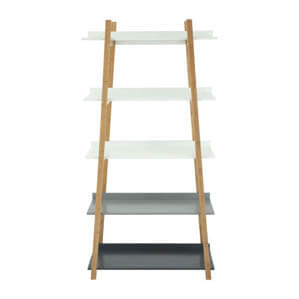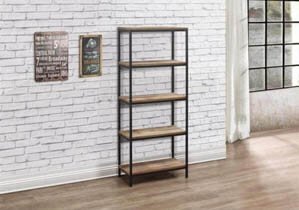 For a bedside cabinet, we recommend using a combination of white and natural wood, such as the Anette Scandi Bedside Chest below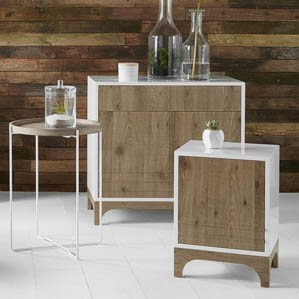 Sideboards and Cupboards
You can also find in the Anette Scandi range sideboards and cupboards so if you are going to commit to the bedside we recommend purchasing the matching units from that range.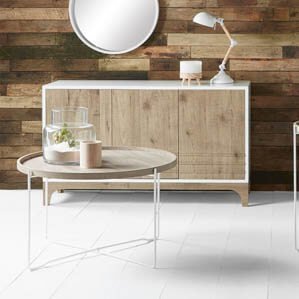 For a rug, as we have suggested, a matching rug to the bed or walls is ideal to contrast from the wooden floor. The rug below is from Dunlem and would work well with a beige or stone bed frame.

Image courtesy of Dunelm and the product name is: Marvel Mat Stone Shaggy Rug
Finishing touches
Lighting – Table Lamp and Floor Lamp
For a table lamp we recommend the Scandinavian Inspired Table Lamp which has an oak veneer neck, the shade is available in 3 colours to match your own unique colour scheme.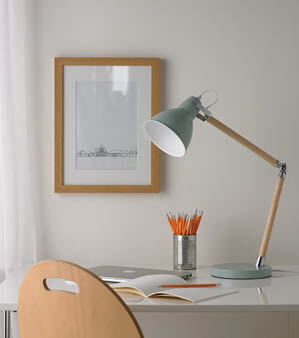 For a beautiful Scandinavian floor lamp, we would be amiss if we didn't at this point mention our fabulous Laurits floor lamp, it's a true Scandinavian lamp with a solid oak base and different colour shades to choose from.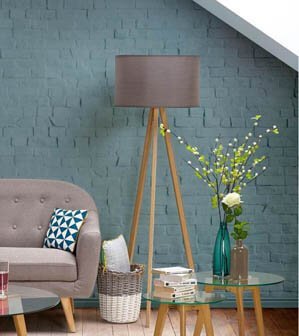 Seating
Not for everybody, however, the finishing touch for some rooms is a chair. Now you can go two directions here, something laid back and quite that doesn't take too much attention from the products above. This option would lead you to something like the Willow Chair.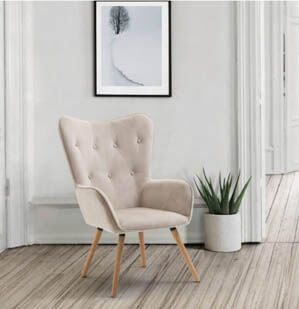 Or, you could use this opportunity to add more colours and the Gottenburg chair would be perfect for this. Its yellow suede fabric is the perfect fit for a Scandinavian bedroom.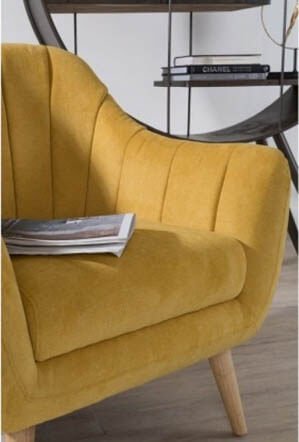 Finally, it a Scandinavian bedroom wouldn't be complete without some wall art and cushions/throws, The high street is full of furnishings shops that will have the perfect neutral thrown, wall art and cushions to complete your bedroom in an instant, at this stage we recommend you pop out in the coming days to pick these extras up while you wait for your lovely items to arrive from Zurleys (we couldn't resist not adding that last bit in).
View all Scandinavian Furniture