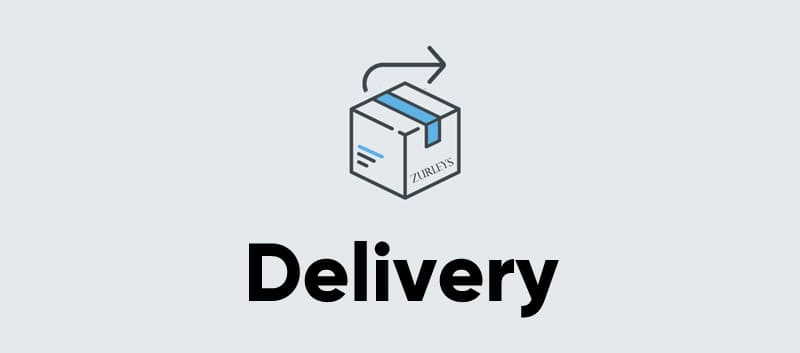 Free Delivery:
Orders over £50 include free delivery. Some areas may be excluded from free delivery. These include delivery to postcodes that incur additional charges. If your address incurs additional charges you will be required to pay the extra surcharge. This includes postal areas such as in the Highlands. For a full list of exclusions please see below.
Delivery Services
As part of the free standard delivery service which Zurleys offer, we provide the most suitable way for you to receive the item as safely as possible.

Please find all the different delivery services HERE
Delivery Estimates/Expected Delivery
Estimated delivery lead times, these can be found on the product page. Delivery estimates are calculated in working days.
Accepting your delivery
Please ensure you thoroughly check your items for any damage at the point of delivery. In the unusual event that your item arrives damaged, please do not accept the delivery and email us at support@zurleys.co.uk and we will do our best to rectify the problem as soon as possible.
Delivery Service:
All deliveries taken place by third party carriers only include delivery to the door unless stated. This can include large or heavy items if a "to door" delivery service is available.
--------------------------------------------------------------
For the Full Delivery Terms please visit the Terms and Conditions page and see points 10 & 11 of the policy.
Typical Surcharge Areas
Scotland Postcodes: AB, DD, IV, KW, PA, PH
Ireland Delivery
Sadly at this current time we are unable to delivery to Northern Ireland and Repbulic of Ireland
We reserve the right to cancel your order if we are unable to delivery to that location due to external factors.